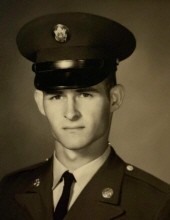 Obituary for Myron David Hayslett
Myron "David" Hayslett, age 72, of Jackson, Michigan passed away Thursday,
October 15, 2020 surrounded by his loving family.  
 
He was born November 24, 1947 to Myron "Jack" Hayslett, and Victoria Hayslett
(Adams), in Fayetteville, West Virginia.  He is survived in death by daughters, Lori
Lynn Hayslett, of Plymouth, Michigan and Sarah Hayslett (Ryan Worden) of
Jackson, Michigan; step-daughters, Jody (Ron) Coffer, of Missouri, and Anita
(Brock) Boyer, of Nevada; and sister, Reba (Henry) Jones, of Michigan.
Grandchildren, Ashley (John) Payne, of Michigan; Aaron (Linda) Larson, of
Indiana; James Zahn, of Texas; Alexis Hayslett, of Michigan; Destiny Grose, of
Michigan; Alexander Grose, of Michigan and seven great-Grandchildren, and two
step-great-grandchildren.  Also, many nieces, nephews, cousins, and friends. 
Proceeded in death by daughter, Dana Larson; parents, "Jack" and Victoria
Hayslett; brother John R.  (Cheryl) Ratliff Jr.; and grandson, Emilio Rite.
 
David served in the U.S. Army from June of 1967 to June of 1970.  He was
stationed in Kaiserslauter, Germany, and in Tacoma, Washington at Fort Lewis
Army base.  He was discharged with the rank of Sargent, SP5.  After returning
home to Michigan, David went back to work for the Ford Motor Company until he
retired, after 30 years.  
 
David, loved life and enjoyed his children and grandchildren.  For years
he road his Honda motor cycles and always loved driving his Trans AM.  He liked a
good party and loved celebrating special occasions with family and friends.  He
liked to play cards, board games and putting jigsaw puzzles together. David, will
be missed dearly by family and friends.  May he rest in peace until we meet
again.